Cvent Unveils 2018 List of Top 25 Meeting Destinations in Europe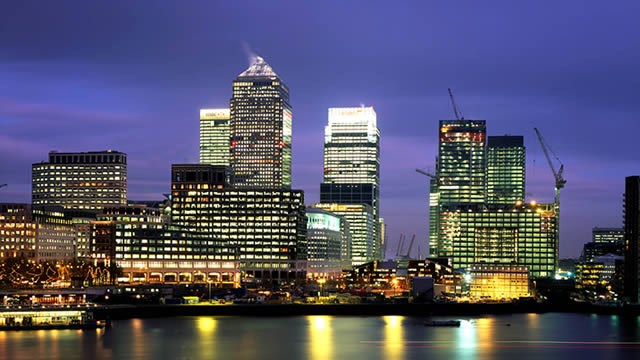 London retains number one for four consecutive years and Germany leads with highest number of cities featured
Cvent, Inc., a market leader in meetings, events, and hospitality technology, today released its list of the top cities for meetings and events in Europe. European cities were previously included in the Europe, Middle East and Africa region.
This year's standalone list highlights Europe's strength and growing popularity in the MICE industry. The list was compiled according to sourcing activity through the Cvent Supplier Network, valued at more than $14.7 billion and including more than 40 million room nights in 2017 – helping to support more than 715,000 events worldwide. For the fourth consecutive year, London tops Cvent's European list, with Barcelona ranking the second most popular destination for the MICE community.
Tracy Halliwell, Director of Conventions and Events at London Convention Bureau said: "London is a world class destination for meetings and events. With fantastic infrastructure, global connections and a variety of hotel rooms and state of the art venues, it's no surprise to see we have retained the top spot in Europe. We continue to attract leading global events and conferences to the city and we look forward to showing the international MICE community the very best of London's offering."
The top 10 cities in Europe in 2018 are:
London, England
Barcelona, Spain
Berlin, Germany
Amsterdam, Netherlands
Madrid, Spain
Paris, France
Frankfurt, Germany
Rome, Italy
Munich, Germany
Lisbon, Portugal
To see the full list of the top cities, please visit here.To see the full list of the top cities for each region, including the U.S., Canada, APAC, Middle East and Africa, and Caribbean and Latin America, please visit here. Notable trends from this year's Europe Top Destinations list include:
Germany boasts the highest number of cities that gained ranking – with six appearing on this year's list. The cities include: Berlin (#3), Frankfurt (#7), Munich (#9), Hamburg (#23), Hanover (#24), and Düsseldorf (#25).
The Hague made its first appearance on the list, adding a second Netherlands city to the list for the first time. Amsterdam has traditionally been the only city in the Netherlands to be featured.
Lisbon continues to be a popular MICE destination having climbed six places over the past four years to make it into the top 10 in this year's list.
While not included in the Top 25, other cities have gathered notable momentum highlighting strength across the entire European region. Dubrovnik, Croatia gained significant popularity year over year, and other large regional UK cities continue to cement their position as desirable meeting hubs including Birmingham, Edinburgh and Bristol."The cities featured in this year's Top Destinations lists have invested significant time, energy, and resources into building premier locations that entice organisations, large and small, to plan meetings and events in their areas," said Chris McAndrews, Vice President of Marketing for the Cvent Hospitality Cloud. "Meetings have become a major economic driver for cities worldwide and because of this positive impact, destinations are pulling out all the stops to attract group business and we expect to see this healthy competition continue."
Methodology
Destinations around the world compete on a variety of factors including the accessibility of the destination and facilities for events, price and price flexibility, quality of facilities, quality of services, personal safety for attendees, and having a point of differentiation.
Cvent evaluated more than 5,000 U.S. cities featured on the Cvent Supplier Network to compile the seventh annual global list. Activity was tracked from January 2017 through December 2017 and the ranking was then determined by a set of qualifying criteria consisting of:
Unique Request For Proposals Received
Total Room Nights
Awarded Request For Proposals
Awarded Room Nights
Percentage of Qualified Meeting Venues
Number of Profile Views
Sam Pepper
Email: sam.pepper@spotlightcoms.com
Sharon Coleshill
Tel: +44 (0) 208 334 4005 Email: sharon.coleshill@spotlightcoms.com
Notes to editors
About Cvent, Inc.
Cvent, Inc. is a leading meetings, events, and hospitality management technology provider with more than 3,200 employees, 25,000 customers, and 300,000 users worldwide. The Cvent Event Cloud offers software solutions to event planners for online event registration, venue selection, event management, mobile apps for events, email marketing, and web surveys. The Cvent Hospitality Cloud partners with hotels and venues to help them drive group/MICE and corporate travel business.  Hotels use the Cvent Hospitality Cloud's digital marketing tools and software solutions to win business through Cvent's sourcing platforms and to service their customers directly, efficiently and profitably – helping them grow and own their business. Cvent solutions optimize the entire event management value chain and have enabled clients around the world to manage hundreds of thousands of meetings and events. For more information, please visit cvent.com/uk, or connect with us on Facebook, Twitter or LinkedIn.
About the Cvent Supplier Network
Featuring more than 255,000 hotels, resorts and special event venues, the Cvent Supplier Network (CSN), part of the Cvent Hospitality Cloud, is one of the world's largest and most accurate databases of detailed venue information. It connects venues and destinations with more than 80,000 Corporate Planners across all market segments, while also leveraging the power of its strong user base of Third Party Planners. More than $14.7 billion in meetings and events and more than 40 Million room nights were sourced through the CSN in 2017. Event professionals can search listings of hotels and other venues in more than 175 countries that can be filtered based on approximately 200 meetings and events attributes. Venues and destinations can utilize Cvent's Group Marketing Solutions to leverage the power of these sourcing platforms, build brand awareness, and generate qualified group and transient business leads. For more information regarding the Cvent Supplier Network, visit www.cvent.com/venues. For more information regarding the Cvent Hospitality Cloud, visit https://www.cvent.com/en/hospitality-cloud.