Best Indian companies looking to go global receive prestigious award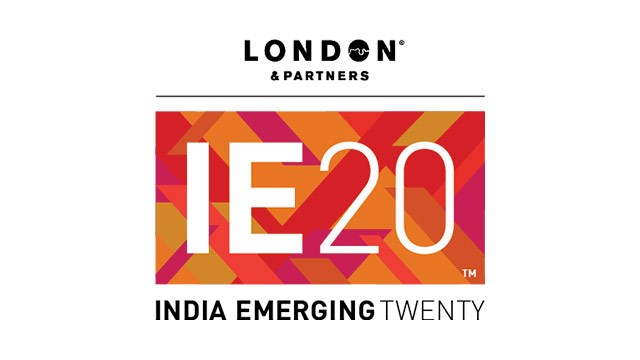 Best Indian companies looking to go global receive prestigious award
From travel tech to dairy tech, and from stem cell technology to science for children, this year's winners of a programme to identify India's most innovative companies with global ambitions has unearthed a remarkable range of talented entrepreneurs with exceptional ideas.
The India Emerging 20 (IE20) programme launched by The Mayor of London Sadiq Khan's business and promotional agency, London & Partners, supported by Santander UK, BDO and Newland Chase, has uncovered some of India's most promising companies looking to expand on the international stage.
Last night at an awards ceremony in Bangalore, attended by UK and Indian business leaders, entrepreneur's champion Shalini Khemka praised the range of companies on the programme and said they will be welcome in London.
Miss Khemka, founder and CEO of E2E & Business Advisory Board Member to the Mayor of London, said: "The Indian economy and Indian people have never been more important to the world. I also share a fundamental belief that it is entrepreneurs who are the critical catalyst to economic growth and development.
"India has always had a strong and distinctive entrepreneurial streak. Most Indians believe that they have the ability to improve their life and the lives of their family as they build and grow businesses and this is happening extensively across India.
"I want to see more businesses from India setting up offices in London and using the city as the platform to compete in the global market. It's crucial London further strengthens ties with the great cities across India, because when it comes to business, we already share a special bond."
Indian companies are one of the biggest investors in the United Kingdom and London is keen to keep growing these investments. New data released today by London & Partners shows that Indian companies are the third biggest investor in London, behind the USA and China.
Since 2005 there has been a 125 per cent increase in Indian companies across all business sectors investing in London, with a 117 per cent increase in tech companies investing in the city, which accounts for 45 per cent of all projects.
Major tech investments in London from India in recent years include software testing service Cigniti Technologies, customer support company Kayako and many others.
London's Deputy Mayor for Business, Rajesh Agrawal, said: "The relationship between London and India continues to go from strength to strength and each year IE20 reveals a host of impressive talent and creativity. This is yet more proof that London is open for business and open to talent.
"As someone who arrived from India fifteen years ago with just £200 in my pocket, before setting up my own successful companies, I know from first-hand experience that London is the best place in world for entrepreneurs to grow a business. My congratulations go to all the winners of these exciting awards."
David Slater, London & Partners' Director of International Trade and Investment, said: "India is one of the highest sources of foreign direct investment to London so we already have very strong trade links. But we think we can go further to strengthen London's connections with India and Indian businesses, not only in established sectors, but in growing sectors, such as tech.
"The diversity of businesses on the latest IE20 mission shows the vast international potential of Indian business and London offers the greatest place in the world for companies to scale and grow.
"We look forward to welcoming all these innovative companies to the United Kingdom during London Technology next month."
Arbinder Chatwal, BDO's Head of India Advisory Services in the UK shared his experience of being associated as a jury member on the program for the second year that BDO has partnered with L&P for IE20 : "Business between India & the UK has been promisingly progressive demonstrating an impressive exchange of ideas, talent , investments contributing to the economic growth both ends. The recent Asia Business Association (ABA) report headlines that 11% of London's GDP is contributed by Asian businesses of which India stands as the biggest contributor. Programs like the IE20 only go to strengthen this statistic promising an incredible future growth in the India-UK business corridor."
Mark Ling, Head of International, Trade & Working Capital, Santander UK said: "We're thrilled to be supporting such an exciting programme. There's a huge opportunity for inward investment by Indian businesses into the UK and IE20 has identified some extremely high calibre organisations. Equally, our own research shows the potential for businesses in a diverse numbers of sectors to export to India. Helping Indian businesses invest in the UK and British businesses looking to export to India is a core priority for Santander. Our plans include regularly and proactively taking UK firms out to markets to meet buyers and network with key stakeholders, as well as arranging inward trade missions. During these visits, we can demonstrate the strength of our international network and the value of local support on the ground.
This year 345 Indian companies entered the IE20 programme, over 100 more than the previous year. From last year's cohort, two companies have already set up offices in London – LatentView Analytics and Curadev Pharma, bringing nearly 100 new jobs in the initial three years.
Some of the winners this year include;
GOQii is an app which provides personalised health and fitness coaching along with a fitness tracker. A personal coach and doctor then works with the person on their health and lifestyle goals.
Smartivity Labs is dedicated to designing, developing and delivering activity-based, smarter learning experiences and toys for children between 3 to 14 years of age. Products include S.T.E.M. (Science, Technology, Engineering, Mathematics) concepts based D.I.Y. educational toy kits, India's first Augmented Reality enabled colouring and jigsaw puzzles and robots designed to teach children the fundamentals of computer programming.
Stellapps Technologies is recognised as the first Indian company that offers end-to- end dairy technology solutions targeted. The company's innovative applications leverage IoT, Big Data, Cloud, Mobility, & Data Analytics to improve milk production, animal insurance and farmer payments. The company acquires the data via sensors that are embedded in milking systems and animal wearable technology.
Thrillophilia is Asia's biggest online platform for tours and activities. 2 million+ travellers come on Thrillophilia every month to plan their trips. The platform connects local travel operators with the travellers and helps them book tours and activities in real time.
Transcell's vision is to become the global leading enterprise for the discovery and development of targeted anti-cancer treatments that improve survival rates, neurological ailments and autoimmune disorders.
Phil Nettleton, Media & PR Project Manager
Tel: +44 (0)20 7234 5787 / +44 (0) 7920 759 018
pnettleton@londonandpartners.com
London & Partners Media & PR Team
Tel: +44 (0)20 7234 5710
Switch: +44 (0)20 7234 5800
press@londonandpartners.com
Twitter: @London_PR
Notes to editors
The India Emerging 20 (IE20)
IE20 is an initiative aimed at high growth, knowledge based companies formed after 2000. The applications are reviewed to create a shortlist of 50 of the most high-performing companies with the ability for global growth.
These 50 companies then pitch their business plans to a jury chaired by London & Partners and made up of senior venture capital investors, serial entrepreneurs, heads of leading in-market accelerator programmes and partner professional services firms for a chance to feature in the final 20. This year the 20 companies have been invited to London, during London Tech Week starting 12th June, to help facilitate international partnerships, alliances, business opportunities and discover how to take advantage of London's unique position as a global business centre. The company data gleaned through the application and jury process enables L&P and its partners to position their services to a new audience of potential clients.
The IE20 program supports innovative, high-growth Indian companies within the Tech, Media, Telecoms, Life Sciences, Financial and Business services sectors to grow their international business through London. It is a competition led by London & Partners in collaboration with a range of leading business advisers such as BDO, Santander and Newland Chase.
About London & Partners
London & Partners is the Mayor of London's official promotional agency. Its purpose is to support the Mayor's priorities by promoting London internationally, as the best city in the world in which to invest, work, study and visit. It does this by devising creative ways to promote London and to amplify the Mayor's messages, priorities and campaigns to engage international audiences. Its mission is to tell London's story brilliantly to an international audience.
London & Partners is a not-for-profit public private partnership, funded by the Mayor of London and our network of commercial partners. For more information, visit www.londonandpartners.com
About Shalini Khemka
Shalini founded E2Exchange (E2E) in 2011.
Shalini was an Investment Director at LDC, the private equity arm of Lloyds Banking Group where she ran the 'plain vanilla' International Trade Finance business.
Shalini's core strength is her commensurate ability to build relationships with entrepreneurs from those starting out to serial entrepreneurs with multiple successes behind them.
Shalini thrives on understanding the needs and putting together the right entrepreneur with the right advice and right person with the right knowledge at the right time.
This distinctive and strong ability is at the heart of E2E, turning this ability into something people can invest in to collectively share in everyone's success.
About BDO
BDO is an international network of public accounting, tax and advisory firms which perform professional services under the name of BDO, operating in 158 countries with more than 60,000 people in 1,400 offices worldwide
BDO LLP is the UK member firm of the BDO International network
BDO India LLP is the India member firm of the BDO International network
About Santander
Santander UK is a financial services provider in the UK that offers a wide range of personal and commercial financial products and services. It has brought real competition to the UK, through its innovative products for retail customers and relationship banking model for UK SMEs. At 31 December 2016, the bank serves around 14 million active customers with c20,000 employees and operates through 841 branches (which includes 60 university branches) and 67 regional Corporate Business Centres. Santander UK is subject to the full supervision of the Financial Conduct Authority (FCA) and the Prudential Regulation Authority (PRA) in the UK. Santander UK plc customers are protected by the Financial Services Compensation Scheme (FSCS) in the UK.
About Banco Santander
Banco Santander (SAN SM, STD US, BNC LN) is a leading retail and commercial bank, headquartered in Spain, with a meaningful market share in 10 core countries in Europe and the Americas. It is among the world's top banks by market capitalization. The bank's purpose is to help people and businesses prosper, in a way that is simple, personal and fair. Founded in 1857, Santander had EUR 1.52 trillion in managed funds, 125 million customers, 12,200 branches and 188,000 employees at the close of 2016. Santander made attributable profit of EUR 6,204 million in 2016, an increase of 4% compared to the previous year.
Further background information
London is one of the best places in the world to do business. The city remains open for business and will always be outward-looking, trading and engaging with the entire world.
London is great place from which to do business overseas – with favourable time zones and office hours which overlap with countries that collectively generate 99% of the world's GDP, London is a truly global business city. Its world-class transport links and central geographic location also make it an ideal city for international businesses looking to expand into overseas markets.
One of the key attractions of London is that you have access to everything you need to help your business succeed all contained and collaborating in one city - from the HQ's of your customer base, access to banks and finance, regulators and government bodies plus world leading universities and talent.
London and India have great business links. Nearly 40 per cent of the fastest-growing Indian companies investing in the UK are based in London and Indian companies employ nearly 50,000 people in London.
With an estimated ecosystem value of $44bn, London is the fourth largest tech ecosystem in the world, and the largest in Europe. It is also the world's most diverse ecosystem, with 53% of foreign employees and more female founders than Silicon Valley.
During the last ten years the UK's tech sector has been a leading source of jobs and growth for Britain's economy. London has been, and remains, the driving force behind the growth of the UK's digital economy - from 2006-2016, London's digital sector recorded 77% employment growth and a 90% growth in the number of digital businesses.
London's tech sector is currently home to 46,000 businesses, contributing 240,000 jobs across the city.