Because I'm a Londoner - Photo Comp Winners Announced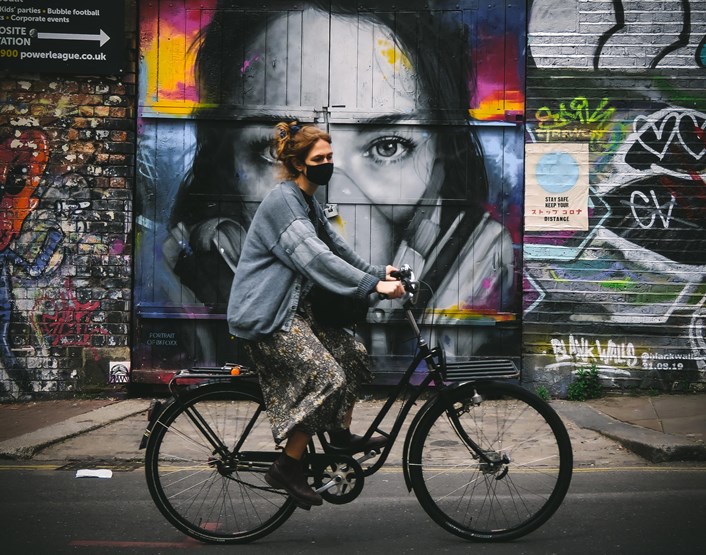 The winners of the Visit London - London's official city guide - 'Because I'm A Londoner' Photography Contest are today (Monday 31 August) announced as:
Overall Winner is Masked Society ©MrG
2nd place Runner Up is Dyeing...to get my hair coloured ©DaviniaKay
3 place Runner Up is The start of something new ©Aleksandrarybinska
The competition, which saw over 400 photographers submitting over 700 entries, was judged by leading photographer and Founder of whatweseee.com, Misan Harriman, Museum of London's curator of photographs, Jilke Golbach, Justine Simons OBE, Deputy Mayor for Culture and Creative Industries, Mayor of London's Office and Laura Citron, London & Partners CEO.
The panel unanimously awarded 'Masked Society' as the overall winner. The image perfectly sums up the time of Coronavirus in London, with the young hipster girl on the bike wearing a PPE mask. Behind her is a classic Brick Lane graffiti wall (street art by Zabou) which almost mirrors her facial attire but for a different reason.
Justine Simons OBE, Deputy Mayor for Culture and the Creative Industries said: "Coming just as lockdown started to ease, the 'Because I am a Londoner' photo competition has truly captured a unique period in our city's history."
As part of the #BecauseImALondoner campaign, the free to enter contest encouraged participants to share what they love about London. As lockdown eased and coinciding with the opening of many of the things that Londoners have been waiting to see and do, it aimed to encourage residents to safely explore their parts of town.
Second Place runner up, Davinia Kay said: "The plan was to get my hair dyed for a milestone birthday in April. This appointment was cancelled due to Covid. After a 3 month wait, it was finally time, the anticipation...."
Third place runner up, Aleksandra Rybinska, aged 18 and from Tottenham said: "This image was taken at one of the Black Lives Matter protests I had attended in June. The image shows a young man standing on the Churchill statue holding a red flare. What instantly caught my attention was the flare, not only was it visible from a large distance attracting more attention to the man, it was also in the colour red which to me was connotative of blood and highlighted the innocent lives which had sadly been lost."
Top ten recommended, Sarah Bux, 30, from Finchley, London said: "Outside a cafe in full personal protective equipment (PPE), sits a person of colour contemplating with a cup of coffee. The irony of course, is how inaccessible the drink is under the layers of protective equipment and how agonising it must be to sit in the suit outside a cafe in the middle of a heatwave. Yet, to me this photo is a reflection of how our lives have changed as a result of the pandemic. The image through the glass reflects a contrast to life pre-Covid where diners were able to enjoy their coffee indoors with friends.
The person in PPE is of a BAME background highlighting the marginalisation of the BAME community and their increased risk during the pandemic. A tribute to those working in occupations that thrust them into the frontline and their need for time and space to sit and reflect to preserve their mental health."
Top ten recommended, Martyn Hayes, 38, from Clapham said: "This photo was taken just as the city was reopening from the COVID-19 outbreak. I gingerly dared myself to get out and explore the city. Despite this photo being taken at rush hour, the London Bridge station was surprisingly empty. This shows that the return to normality is a slow process. I chose to take the photo with the doors open to entice the viewer inside. The distortion of the fisheye lens gives the image a jarring and foreboding sense, as does the dark and empty space of the train station. To me, this feels like the start of a horror movie... But hey, that's just how my mind works."
Visit London teamed up with Photocrowd and the Museum of London, to offer Londoners a chance to showcase the best of their local area and the people and places of London. The competition offered the capital's city dwellers a chance to support their local area, by highlighting people enjoying nearby businesses and venues; from markets, independent shops and hairdressers, to museums or a legendary community restaurant and everything in between.
Jilke Golbach, Museum of London's Curator of Photographs said: "We were delighted to support and showcase this campaign which celebrates the people and places of London as they come out of Lockdown. The photographs submitted to the competition tell a dynamic story of how Londoners are now rediscovering and reconnecting with their city. The winning images uniquely capture the complicated realities of life after lockdown, highlighting not only the ongoing struggles against the virus and the structural inequalities it has brought to the surface but also the joy of reconnecting with others. London's historic and contemporary environment forms the backdrop to these wide-ranging individual and collective experiences."
Laura Citron, Chief Executive Officer of London & Partners which runs Visit London said: "We were delighted to work with one of our partners, the Museum of London, in calling on Londoners to snap away and share their new normal, as they safely rediscover their local neighbourhoods and celebrate what's open across London. As businesses begin to open safely, we invited Londoners to shine a spotlight on their local areas and show that going out locally is a way to support other Londoners and stand in solidarity with the city. Continue to use the #BecauseImALondoner hashtag, to join us in a social conversation and tell your London stories and what it means to be a Londoner!"
The Because I'm a Londoner campaign is a citywide campaign to build consumer confidence and encourage a responsible recovery in consumer spending, led by London & Partners, the official promotional agency for London, and a London Alliance of major London businesses and organisations, and supported by the Mayor of London, London Councils and Transport for London. 
The Because I'm a Londoner campaign aims to inspire Londoners to safely explore their own areas and support local businesses, boosting consumer confidence and stimulating spending, to help the city reshape and recover. It supports London's culture, retail, hospitality and events sectors to thrive while we adapt to life with coronavirus, saving the jobs of some of the most vulnerable Londoners, and securing the unique culture and lifestyle that make London a global magnet for talent and investment.
Entrants did not need to be professional photographers to join the contest, just have a phone or camera at the ready. Photos, could be in colour or black and white and the expert judge's winner, receives a Panasonic Lumix DMC-TZ70 Digital Camera and the top 3 will receive either London Nights or People of London, by Hoxton Mini Press.
The photo competition closed on Friday 21 August at 1pm (GMT) - full terms and conditions www.photocrowd.com/becauseimalondoner
Notes to editors
Media contact: 
Contact: Nicola Osmond-Evans, Head of Communications
Tel: 07985 800 108 Email: nosmond-evans@londonandpartners.com #BecauseImALondoner
High-res images: Winning Images - Available to download here: DropBox
About London & Partners and visitlondon.com
Visitlondon.com is the official visitor guide to London and is run by London & Partners, London's international trade, investment and promotion agency. Its role is to promote London internationally as a leading world city in which to visit, study, invest, grow and meet. Its mission is to tell London's story brilliantly to an international audience.
London & Partners is a not-for-profit company. We are half funded by the Greater London Authority (GLA) and half from other sources including commercial activity. For more information visit londonandpartners.com
Visitlondon.com is a comprehensive resource for everything that is happening in London. At any one time, this includes 20,000 event listings, plus content designed to inspire and assist visitors. Visitlondon.com is available in English, French, Italian, German and Spanish. Each month visitlondon.com attracts more than 3.5m visits and its social media channels have 1.75m followers. For more information visit visitlondon.com
Laura Citron
Laura Citron is CEO of London & Partners, London's international trade, investment and promotion agency. She leads the organisation to grow London's global reputation and to attract business, tourists, students, events and talent to London. Laura has spent her career at the intersection of business, policy and communications. Prior to London & Partners, she was Managing Director of the Government & Public Sector Practice at WPP, the world's largest marketing and communication services business. She taught communications for behaviour change at the Blavatnik School of Government, University of Oxford and the Lee Kuan Yew School of Public Policy, National University of Singapore. Before joining WPP, Laura spent several years as a UK public servant in London and Brussels. She has also lived and worked in Russia and Germany. A proud Londoner, Laura has a postgraduate degree in Economics from University College London. 
Misan Harriman
Photographer Misan Harriman is a major talent whose strong reportage style and unique eye for narrative has captured the attention of editors and celebrities around the world. From documenting historic moments in history, most recently the Black Lives Matter movement in London, to photographing high profile celebrities, including Stormzy, Tom Cruise, Adwoa Aboah, Giorgio Armani, Kylie Minogue, Cate Blanchett and Olivia Colman, Harriman is a photographer of extraordinary range.   His commissions include royal, private and high profile portraiture as well as reportage documenting and covering behind the scenes at major awards, music festivals and film sets.  His striking images have featured in Vanity Fair, Vogue UK, Harpers Bazaar, People Magazine and The Telegraph among others.  Nigerian born, Harriman was educated in England where he developed a life-long love for the arts. This led him to picking up a camera and honing his craft. Harriman is completely self-taught, his work inspired by Gordon Parks, Sally Mann, Eve Arnold, Bruce Davidson and Peter Lindbergh. www.whatweseee.com
Jilke Golbach
Jilke Golbach is Curator of Photographs at the Museum of London. She was previously Assistant Curator at the Barbican Art Gallery, where she worked on the critically acclaimed exhibitions and accompanying publications 'Dorothea Lange: Politics of Seeing' (2018) and 'Strange and Familiar: Britain as Revealed by International Photographers' (2016). Her interdisciplinary doctoral research at UCL focuses on culture-led regeneration, urban heritage and the right to the city.
Justine Simons OBE
Justine Simons OBE, Deputy Mayor for Culture and Creative Industries, Mayor of London's Office and is the Founder and Chair of the World Cities Culture Forum. Justine is pioneering ground breaking cultural policy; from Creative Enterprise Zones to the new London Borough of Culture Award , from the first ever Cultural Infrastructure Plan to the UK's first Night Czar. Justine believes culture is central to London's success as a global city and has the power to transform lives and places. She has shaped the most ambitious cultural strategy to establish London as a leading global creative capital and is leading the London 2012 Olympic and Paralympic Games legacy, East Bank - the most significant new cultural and education district to be established in London in 150 years. Justine established the Fourth Plinth as a global exemplar for public sculpture and chaired the commission that put the first statue of a woman on London's Parliament Square.
About the London Alliance
The London Alliance is a community of businesses from across the city that will help drive a rapid recovery in London's economy; through a campaign that's built on confidence, sustainability and responsible spending. Bringing together London's businesses, cultural organisations and city authorities, the London Alliance is led by London & Partners, the international trade, investment and promotion agency for London and supported by the Mayor of London, Transport for London and London Councils and activated through the Because I'm a Londoner campaign. It is open to any London business that wants to use the campaign or support it.
Businesses from across London can join  londonandpartners.com/joinalliance and sign up for access to a wide range of free-to-use downloadable assets, which will help them to promote their business responsibly to customers in their local area, as well as help them encourage their networks to sign up and take part.  
Fast Facts:
Hospitality, culture, retail, leisure, and tourism employs one in five Londoners and generates £62bn GVA.​
These sectors employ disproportionately vulnerable and under-represented Londoners.
Loss of employment and a decline in real wages in these sectors will therefore have particularly severe impacts for vulnerable communities. ​
Businesses in these sectors are highly exposed to cash flow, consumer demand and find it more difficult to borrow.  ​
These sectors create the culture and lifestyle which underpin London's global competitiveness for talent and investors.
The capital is home to almost a quarter of a million SMEs in sectors which could benefit from, including retail, food, hospitality and the creative industries, employing about 800,000 people. Many have seen their income fall dramatically as a result of the restrictions introduced to limit the spread of coronavirus.
About Photocrowd
Photocrowd is a global community of photographers, of all levels and interests, and a platform for some of the best photo contests and photo awards around. photocrowd.com
About The Museum of London
The Museum of London tells the ever-changing story of this great world city and its people, from 450,000 BC to the present day. Our galleries, exhibitions, displays and activities seek to inspire a passion for London and provide a sense of the vibrancy that makes the city such a unique place. You can explore the Museum of London with collections online – home to 90,000 objects with more being added. www.museumoflondon.org.uk