Bavaria and London strengthen economic ties with increased trade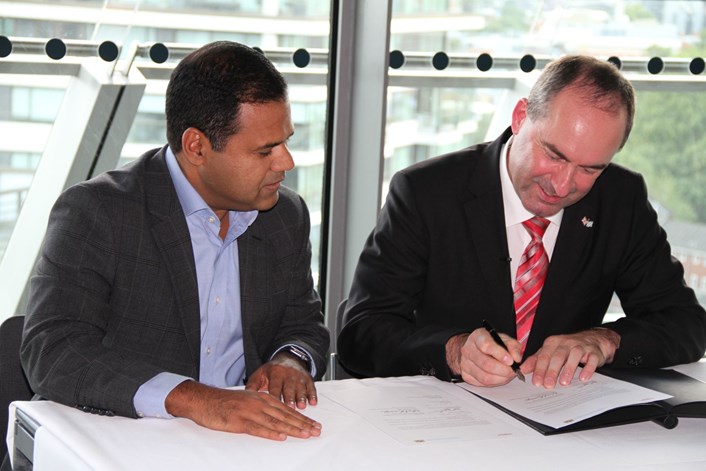 London and Bavaria sign a Partnership Agreement in the British Capital.
Today (1 August), Rajesh Agrawal, Chairman of London and Partners, signed a Partnership Agreement with Hubert Aiwanger, Bavarian Minister of Economic Affairs designed to strengthen economic relations between London and Bavaria.
The Partnership Agreement will also support planning of key industry events between the two hubs including London Tech Week, which attracted over 58,000 attendees to the British capital. Bits & Pretzels, one of the highlight events in Munich, brings entrepreneurs together during Oktoberfest.
Deputy Mayor for Business, Rajesh Agrawal, said: "This important partnership will strengthen the economic ties between London and Bavaria and enable us to work more closely on a wealth of new opportunities over the coming years. I look forward to seeing the benefits this will bring."
"I warmly welcome the Bavarian delegation, above all the Minister of Economic Affairs Hubert Aiwanger," said Laura Citron, CEO of London & Partners. "London and Bavaria not only work together in London, we also have an office in Munich and are already working hand in hand with Invest in Bavaria. London is open for investment and business from around the globe. For centuries the UK capital has been a city in which the world's talents converge to create new inventions, ideas and institutions."
Hubert Aiwanger, Bavarian Minister of Economic Affairs, added:
"London has always been an important partner for Bavaria. Leading German companies from Bavaria such as Siemens, Allianz, BMW and Audi enrich the London ecosystem with their UK branches and location investments and are reliable business partners for British companies. Both London and Bavaria are important technology and business locations. "
As part of the Bavarian delegation's visit to London, ongoing focus will be on the promotion of tech start-ups and scale-ups.
Notes to editors
Invest in Bavaria is the business promotion and inward investment unit of the State of Bavaria.
London & Partners is the Mayor of London's official economic development agency.