2019 a record year for investment into London and UK's tech sector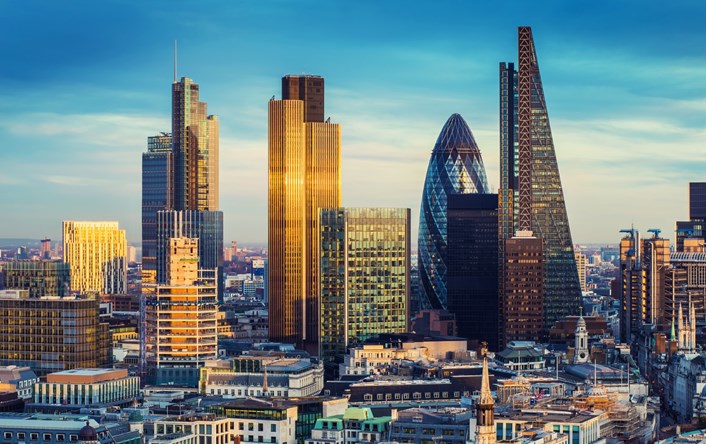 London and UK tech companies help to fuel growth of European tech funding in 2019
UK, Germany and France continue to dominate European tech investment landscape
Global tech investors are increasingly pumping large sums of money into European tech companies, with 2019 representing a record year for venture capital funding across the continent. According to research prepared for London & Partners and Tech Nation by Dealroom.co, London has led from the front, with the UK capital's tech companies attracting $9.7bn in funding last year – more than any other European city.
Total VC funding for London' sector rose by unprecedented 87 per cent in 2019, with $4.5bn more than the $5.2bn raised in 2018. Major funding rounds for London companies in 2019 included: a $800m mega round for London based insurance tech company, Grensill; a $575m Series G round for Deliveroo and a $440m in funding for London-headquartered fintech company, OakNorth.
Other major European tech hubs also contributed to the continent's tech investment boom, with Paris ($3.3bn) and Berlin ($4.5bn) attracting a significant portion of the record total $39.8bn raised by European tech businesses in 2019.
Further analysis of the research shows that European tech cities such as London, Paris and Berlin are competing for investment on the global stage, joining the likes of New York, Beijing and the Bay Area at the top of the league tables.
Meanwhile, the UK, France and Germany's investment growth in 2019 means they now sit behind only the US and China in terms of the amount of global venture capital funding.
London also remains the top place in Europe for creating high growth tech businesses, with the research revealing that the UK capital has created 46 unicorn companies. Some of the London companies joining the unicorn club in 2019 included: Checkout.com, Babylon and Sumup.
At a national level, the UK's tech sector was also boosted by the news that it has added a further eight billion-dollar companies to its list of unicorns – taking its total number of tech giants to 77.
The amount being invested in early-stage UK companies also increased, reaching $5.1bn in 2019 up from $4bn the year before. At the higher end of the scale, a total of $5.4bn was invested in rounds exceeding $100m in 2019 – more than twice the amount invested in such rounds during the same period last year.
Of the highest-value UK rounds, five companies raised more than a quarter of a billion dollars each, and three of those exceeded half a billion in a single round.
2019 saw the largest ever Series A investment, made in payments processor Checkout.com ($230m) in May, and the largest UK round of all time, which saw $800m being invested in supply-chain fintech Greensill in October just five months after the company had raised $655m.
UK growth outstrips every other country worldwide
The number of rapidly growing UK tech companies soared as investment in the UK was 44% higher in 2019 than the year before, marking the third year in a row where growth has exceeded 40%. This most recent increase cemented the UK's place as the fastest growing tech ecosystem in Europe.
To put this growth into perspective, investments in France grew a little over a third compared to 2018, while Israel's investments rose by a fifth. The US and China, instead, both saw investment numbers plummet by 20% and 65% respectively.
Almost half of the UK investments ($6bn) in 2019 came via US and Asian investors and the UK tech sector recently overtook the US for foreign investment per capita. What's more, when compared to Germany and France, the UK had the widest overall mix of foreign versus domestic investors.
The unicorn capital of Europe
Since 2014, the UK has produced more than twice the total number of $1bn tech companies than any other country in Europe, and sits behind only the US and China when it comes to building the world's fastest-growing firms.
In 2019, eight British companies reached this unicorn status – Rapyd, CMR Surgical, Babylon Health, Sumup, Trainline, Acuris, Checkout.com and OVO Energy – meaning the UK is now home to 77 billion-dollar businesses, double the total number in Germany (34) and almost four times as many as Israel (20).
And while London remains the leading city for unicorns in the UK, having produced a total of 46 since 1990, Manchester, Oxford, Cambridge, Edinburgh, Dublin and Bristol have produced a combined total of 24. Of the latest unicorns to join the list, OVO Energy adds to Bristol's tally while Cambridge-based CMR Surgical pushes Oxbridge's total to 11.
What's more, a further 96 startups and scaleups have been listed as having the potential to reach unicorn status in the coming months.
Among those companies identified as future unicorns by Tech Nation and Dealroom.co are Raspberry Pi, the low-cost computer company, challenger banks Atom and Starling, and children's entertainment company Moonbug.
The UK leads the way in fintech, AI and clean energy
These deals also fuelled, in part, a surge in the UK's best performing sectors – fintech, AI and deep tech, and clean energy in 2019.
Again, when compared with Germany and France, UK fintech firms raised $5.38bn last year – an impressive 7.5 times the amount raised by French fintechs, and three times as much as fintech firms in Germany.
This $5.38bn figure represents a 100% increase from 2018's total of $2.7bn, as a result of both the Greensill and Checkout.com deals plus strong performances from the likes of World Remit ($197m), Monzo ($147m) and Starling Bank ($98m).
In AI and deep tech, investments in Benevolent AI ($90m), Melody ($60m) and Wayve ($20m) helped push the investment total across these sectors to $3.2bn – up from $2.6bn from 2018, and twice that invested in Germany and France's respective sectors.
While clean energy is a smaller market, OVO Energy's $260m deal, alongside $81m investments in photovoltaic and solar panel firm Oxford PV and BBOXX, similarly helped push 2019's total investment in this sector to just short of a billion for the first time, which is a 45% increase on 2018's figures.
The Mayor of London, Sadiq Khan said: "London's tech sector is a global success story and one that I continue to champion, particularly as it reflects our city's diversity and entrepreneurial spirit. Our city is the undisputed tech capital of Europe and the record $9.7 billion of investment in this sector clearly shows London open to talent and investment from all over the world. London's successful digital economy is not only an important source of jobs for Londoners but is also bringing prosperity and growth to the rest of the UK."
Laura Citron, CEO of London & Partners said: "Today's figures show that Europe's tech sector has firmly established itself on the global stage. Tech cities such as London, Paris and Berlin have helped to put Europe's tech sector on the map because they are home to world class talent and are increasingly creating game-changing companies. With strong connectivity between European cities and mutual strengths in entrepreneurship and innovation, we see lots of opportunities for London to share ideas and collaborate with tech hubs across the continent."
Julia Hawkins, partner, LocalGlobe said: "Ambitious entrepreneurs no longer have to leave this island and head to the US to build the company of their dreams. The UK's commitment to science, research and deep tech has made huge strides in 2019 and we're excited about the benefits that are still to come, as we develop global authority in the fields of artificial intelligence and deep tech."
Science Minister Chris Skidmore said: "We are committed to making the UK a global science and innovation superpower, and this report shows we have the thriving technology sector needed to deliver on that ambition.
"By investing record amounts in R&D, artificial intelligence and clean growth, and by ensuring our regulations foster, rather than hinder innovation, we are helping to build a technology sector that can rival global powerhouses like the US and China."
Gerard Grech, Chief executive, Tech Nation said: "In 2019 the UK secured a formidable 33% of all European Tech investment, at $13.2Bn, despite accounting for roughly 9% of Europe's population. Equally exciting is the rapid expansion of digital tech growth across the UK regions, which augurs well for national GDP growth and a truly connected Britain. At Tech Nation, we are also working on an international vision. UK tech businesses are now well poised to forge new international partnerships and global ventures, enhancing tech growth across borders."
Ronan Harris, VP and MD, UK and Ireland, Google said: "Every country in Europe wants to build a thriving tech sector and the UK has achieved that. We are delighted to be committing more investment to our UK business, over the course of the next decade. At Google, we want to help young tech businesses reach scale to help build a thriving, dynamic economy. These investment figures show that lots of other major tech investors have the same view and these are exciting times."
Justin Kelly, Director of Business Development, Siemens PLC said: "It's exciting to see the extent to which the tech sector is spreading across the regions of the UK, creating good jobs and opportunities for lots of people. Tech in the UK is changing traditional industries like manufacturing, the energy sector and transport and making them more efficient and sustainable."
Download the full report here.
Notes to editors
Table showing venture capital investment into London, Paris and Berlin tech companies from 2014-2019
| | | | | | | |
| --- | --- | --- | --- | --- | --- | --- |
| | 2014 | 2015 | 2016 | 2017 | 2018 | 2019 |
| London | $1.8bn | $3.3bn | $3.4bn | $6.1bn | $5.2bn | $9.7bn |
| Paris | $0.7bn | $1.1bn | $1.3bn | $1.8bn | $2.4bn | $3.3bn |
| Berlin | $2.1bn | $2.3bn | $1.2bn | $2.1bn | $2.4bn | $4.5bn |
Source: Dealroom, Jan 2020
About London & Partners
London & Partners is the Mayor of London's official promotional agency. Its purpose is to support the Mayor's priorities by promoting London internationally, as the best city in the world in which to invest, work, study and visit. We do this by devising creative ways to promote London and to amplify the Mayor's messages, priorities and campaigns to international audiences. Its mission is to tell London's story brilliantly to an international audience. London & Partners is a not-for-profit public private partnership, funded by the Mayor of London and our network of commercial partners. For more information, visit: www.londonandpartners.com
About Tech Nation:
Tech Nation, the leading scaleup network for entrepreneurs, works to make the UK the best place in the world to grow a digital tech business. Its mission is to empower tech entrepreneurs to grow faster through knowledge and connections, to build a UK economy that is fit for the next generation. It does this by running growth programmes, developing digital entrepreneurship skills through its online Digital Business Academy, through its visa scheme for exceptional talent and by championing the UK's digital sector through data and media campaigns, including the annual Tech Nation Report. Technation.io/report2019
About Dealroom.co
Based in Amsterdam, Dealroom.co is a proprietary global database providing insights on innovative companies and venture capital. Dealroom's software, database and bespoke research help to stay at the forefront of innovation and identify growth & strategic opportunities. Among its clients are firms such as McKinsey & Company, Boston Consulting Group, Microsoft, Stripe, Deloitte, Ernst & Young, Sony, and other world-leading Silicon Valley firms, venture capital and buyout firms, multinationals and governments. Dealroom data has been extensively featured by the Financial Times, BBC, The Economist, The New York Times, The Washington Post, Bloomberg, Reuters and dozens of other leading publications.