Hidden gems Itinerary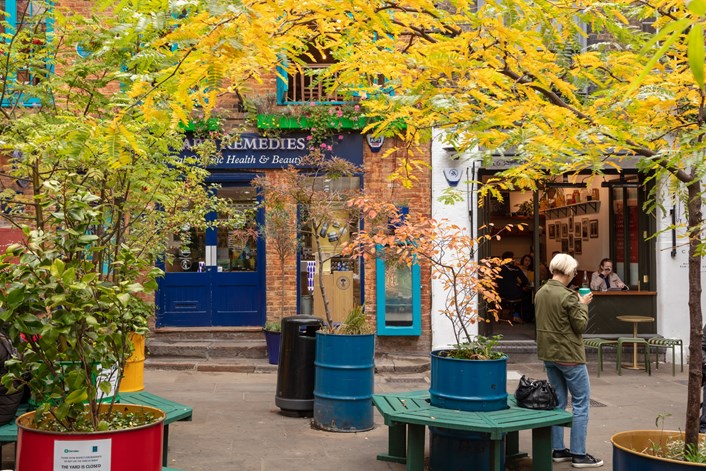 London is full to the brim with a wide selection of fantastic and unique experiences that are just waiting to be discovered
These hidden gems are waiting to be uncovered in some surprising places across the capital, so come along and glimpse a side of London that most visitors (and some Londoners) have never encountered.
High resolution images are available free of charge to media registering here
Day 1
10.00: Spend the morning at Ching Court and Neal's Yard, Seven Dials
Escape the chaos of the Capital and head to Ching Court, a peaceful open air courtyard hidden in between Shelton, Mercer and Monmouth Street in Seven Dials. Read a book, enjoy a quiet sandwich and meditate amongst the listed buildings and serene ambiance of the courtyard. Ching Court is open to the public between 8 -6pm from Monday - Friday.
Nestled in between Short's Gardens and Monmouth Street are the bright and colourful surroundings of Neal's Yard. Visit the original Neal's Yard Remedies store in the location that inspired the world famous name and enjoy complimentary hand massages and tea whilst you shop their range of natural products. The Yard is also home to a blue plaque identifying the location of the Animation, Editing and Recording Studios of Monty Python.
Seven Dials, Covent Garden, Covent Garden, London, WC2H 9HU
www.sevendials.co.uk
Press contact: 020 7287 9601 / sevendials@sisteris.com
12.30: Take a trip to Leadenhall Market
Visit the beautiful covered market in the City of London. Under the elegant Victorian roof there are stalls selling flowers, cheese, meat and other fresh food. The market is open Monday to Friday between 11am and 4pm. There are also shops, pubs and restaurants in the market building. Diagon Alley scenes in Harry Potter and the Philosopher's Stone were filmed in Leadenhall Market.
EC3V 1LR (Liverpool Street station)
https://www.leadenhallmarket.co.uk/
Contact number: 020 7332 1523
13.30: Climb The Monument
The Monument, designed by Sir Christopher Wren to commemorate the Great Fire of London, has been welcoming visitors for over 300 years. Today, you can climb 311 steps to the top of this historic landmark (built 1677) to take in spectacular views of London. As recognition of such achievement each visitor to the Monument receives a certificate as proof of their athletic abilities.
Monument Street, EC3R 8AH (Monument/Bank underground)
www.themonument.info
Contact number: 020 7626 2717
15.00: Sir John Soane's Museum
This is the former residence of Sir John Soane, architect of the Bank of England. The museum houses over 20,000 architectural drawings, antiquities and works by Hogarth, Turner, Canaletto and Piranesi, along with two sets of paintings by William Hogarth and the Egyptian Sarcophagus of Seti I.
13 Lincoln's Inn Fields, London, WC2A 3BP (Holborn underground)
www.soane.org
Press contact: 020 7713 9388 / tryley@soane.org.uk
16.30: Visit Temple Church
The Temple Church was built by Knights Templar and comprises of the Round and the Chancel. The Chancel features life-size stone effigies of nine knights besides replicas of leaning 13th century columns. The choir organises organ recitals, concerts and Christmas carol services.
The Master's House, Temple EC4Y 7BB (Temple underground)
www.templechurch.com
Contact number: 020 7353 3470
Evening: Drinks at Ye Olde Cheshire Cheese Pub
Ye Olde Cheshire Cheese has a real olde world feel to it, having survived through the reign of 15 monarchs. It consists of a great number of bars and dining rooms reached by a labyrinth of passages and staircases. It is decked out with a dark wooden interior. Bar food is served as well as beers, traditional ales, wines and spirits. There's also a restaurant.
145 Fleet Street, The City, London, EC4A 2BU (Temple underground)
Contact Number: 020 7353 6170
Day 2
10.30: Visit the Menier Gallery
Built in the 1870's to house a chocolate factory, this historical building has now been converted into a leading arts complex which includes a gallery, restaurant, and theatre and rehearsal space. The Menier Gallery, housed on 2 floors of the Menier Chocolate Factory, offers a dramatic space in which to view and exhibit works of art and design. The gallery shows a wide variety of work including painting, photography, sculpture, architecture, film and illustration.
51 Southwark Street, SE1 1RU (London Bridge/Borough underground)
www.meniergallery.co.uk
Press contact: 020 7407 3222 / mail@meniergallery.co.uk
12.00: Visit Maltby Street Market
A small market offering fresh produce, including breads, meats and cheeses. The Kernel Brewery is also open during market time. The market is open Saturdays between 9am-2pm.
Maltby Street, Bermondsey, London, SE1 3NP
http://www.maltby.st/
13.30: Lunch at Café in the Crypt
Found in the stunning 18th century crypt of St Martin-in-the-Fields, one of London's liveliest and best-loved churches and arts venues. An impressive self-service café at the heart of the capital, Café in the Crypt offers a wide and tasty variety of good-value, freshly-made hot and cold meals, snacks and drinks, using the expertise of our chefs from around the world. St Martin's Café in the Crypt is the ultimate choice for a combination of superb, inexpensive food in an historic atmosphere.
St Martin-in-the-Fields Church, Trafalgar Square WC2N 4JJ (Charing Cross underground)
https://www.stmartin-in-the-fields.org/visit/cafe-in-the-crypt/
Press contact: 020 7766 1115 / julie.emig@smitf.org
16.00: Visit the Geffrye Museum
The Geffrye explores the home from 1600 to the present day, focusing on the living rooms of the urban middle classes in England, particularly London. A chronological series of period rooms show how such homes have been used and furnished over this period, reflecting changes in society and patterns of behaviour as well as style, fashion and taste. Throughout the exhibition, festive food will be served in the restaurant and visitors can hunt for original gifts, decorations, cards and books in the shop.
136 Kingsland Road, Shoreditch, London E2 8EA (Hoxton Underground)
https://www.geffrye-museum.org.uk/
Press contact: 020 7739 9893 / press@geffrye-museum.org.uk
Evening: Visit The George Inn
The only remaining galleried coaching inn in London, The George now belongs to the National Trust. This London pub can be traced back to 1542, although an inn probably stood on the spot even earlier. Shakespeare lived and worked nearby, so it's likely that he'd have been one of its patrons; he may even have played there. There are several bars on the ground floor. The restaurant, which used to be the bedchambers in the old coaching days, offers an a la carte menu of traditional British cuisine.
77 Borough High Street, SE1 1NH (London Bridge/Borough underground)
Contact number: 020 7407 2056
Day 3
09.00: Tour of the BAPS Shri Swaminarayan Mandir Hindu Temple with Golden Tours
BAPS Shri Swaminarayan Mandir is the first traditional Hindu temple in Europe. It is a place of worship, learning and community service. The temple was built using Bulgarian limestone and Italian Carrara marble. Stones were shipped to India where they were hand-carved and then shipped to London to be assembled like a giant jigsaw puzzle. The tour includes lunch at the vegetarian restaurant and transport to and from central London.
105-119 Brentfield Road, NW10 8LD (Neasden Underground)
http://londonmandir.baps.org/visit-us/
Contact Number: 020 8965 2651
12.00: Visit Museum of Brands, Packaging & Advertising
One of the capital's fantastic hidden gems, featuring more than 12,000 original items from the Robert Opie Collection, the Museum of Brands, Packaging and Advertising in Notting Hill offers a nostalgic journey through childhood toys, fashions, magazines and more from Victorian times, through austerity Britain to the swinging 60s. The visit will be guided by the museums founder himself, providing a fascinating insight into the collection.
2 Colville Mews, Lonsdale Road, W11 2AR (Ladbroke Grove underground)
www.museumofbrands.com
Contact number: 020 7908 0880
14.00: Chelsea Physic Garden
Chelsea Physic Garden is the second oldest botanic garden in England, and has been linked with medicinal plants since its foundation by the worshipful Society of Apothecaries in 1673. The three-and-a-half acre garden contains one of the oldest rock gardens in Europe, a herb garden with culinary and medicinal plants, botanical order beds, glasshouses, rare plants and tender species along with the largest outdoor olive tree in Britain.
66 Royal Hospital Road, Chelsea, SW3 4HS (Sloane Square underground)
www.chelseaphysicgarden.co.uk
Press contact: 020 7349 6472 / lmiddleton@chelseaphysicgarden.co.uk
Evening: Performance of The Woman in Black
Since 1989, more than seven million people have seen, enjoyed and lived to tell the tale of one of the most exciting, spooky, gripping and successful theatre shows ever staged. Stephen Mallatratt's adaptation of Susan Hill's best-selling novel The Woman in Black has achieved much critical acclaim over the years. The Woman in Black combines the power and intensity of live theatre with a cinematic quality inspired by the world of film noir. While The Woman in Black is not a tale of terror or horror, you'll find as the drama and tension build, you'll be transported into a terrifying and ghostly world.
Fortune Theatre, Russell Street, London WC2B 5HH (Covent Garden underground)
www.thewomaninblack.com
Press contact: 020 7831 7657 / stephen@thecornershoppr.com
Day 4
09.00: Tour of Highgate Cemetery
Highgate Cemetery is one of London's great Victorian cemeteries with historic, cultural and wildlife attractions. Features include Victorian buildings, chapels, catacombs, The Lebanon Circle and Egyptian Avenue, all of outstanding architectural importance. Admission to the West Cemetery is by guided tour only. The East Cemetery can be viewed daily and there is an optional tour on the first Saturday of each month.
Swain's Lane, London, N6 6PJ (Archway Underground)
www.highgate-cemetery.org
Contact number: 020 8340 1834
11.30: Visit the Sherlock Holmes Museum
Welcome to 221B Baker Street, the London home of Sherlock Holmes. In this Grade II listed building you can see Holmes' apartment, look around an exhibition featuring life-size waxworks from Sherlock Holmes' most famous adventures, and pick up some souvenirs and antiques in the shop.
221B Baker Street NW1 6XE (Baker Street underground)
www.sherlock-holmes.co.uk
Contact number: 020 7935 8866
13.00: Lunch at the Restaurant at St Paul's Cathedral
St Paul's Cathedral certainly isn't a hidden gem – but did you know that is has the largest crypt in Europe? Visitors can dine in the crypt's restaurant, which offers a superb menu featuring an ever-changing selection of dishes made from the best quality British seasonal ingredients.
St Paul's Churchyard, London EC4M 8AD (St Paul's underground)
www.restaurantatstpauls.co.uk
Press contact: 020 7246 8321 / hwoolley@stpaulscathedral.org.uk
13.30: Visit St Brides Church
This church, restored by Sir Christopher Wren, has a large crypt museum, which tells the story of the six previous churches that stood here. Pepys was baptised here and the church has many American connections. There's also a display about the local printing industry and a Roman pavement. Lunchtime concerts are held on Tuesdays and Fridays at 13.15, except Lent, Advent and August.
Fleet Street EC4Y 8AU (St Paul's underground)
www.stbrides.com
Contact number: 020 7427 0133
Evening: Drinks at Gordon's Wine Bar
Established in 1890, Gordon's Wine Bar is possibly the oldest wine bar in London. Still family run, signs of the bar's long history can be found everywhere, from the cellar and candlelit tables, to the aged wooden walls covered in memorabilia and old newspaper cuttings. The varied wine list includes sherry, port and Madeira. Served from wooden casks behind the bar, this gives it a slightly eccentric feel. Gordon's also serves a variety of English dishes. Outside seating is provided on the terrace.
47 Villiers Street, Charing Cross, London WC2N 6NE (Embankment underground)
https://gordonswinebar.com/
Contact number: 020 7930 1408