East London Itinerary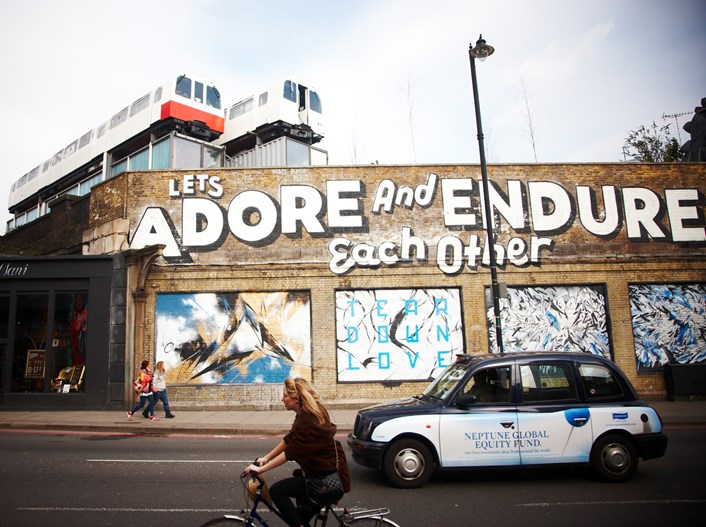 This vibrant and creative part of London offers a wealth of attractions, great food and exciting places to explore. Here are our suggestions.
High resolution images are available free of charge to media registering here
Day 1
09.00: Breakfast at St John Bread and Wine
Bread & Wine opened in 2003 as a new home for our bakery and a more informal manner of dining than the first St. John Restaurant in Smithfield. Breakfast and lunch are served seven days a week and supper from Monday to Saturday. The menu, celebrating indigenous, seasonal ingredients changes as the day rolls on and diners can either order a three course meal or share a number of dishes from the courses on offer. As well as selling goods to take home from our bakery, wines by the bottle or the case can be bought from our lists to take home with some delivery available. Bread & Wine has been voted Best British Restaurant by the Evening Standard and named as best value restaurant by The Observer Food Monthly.
94-96 Commercial Street, Shadwell, E1 6LZ (Liverpool Street Underground)
www.stjohngroup.uk.com
Press contact: 0207 553 9842 / press@stjohnrestaurant.com
11.00: Enjoy the Alternative London Street Art Tour and Workshop
Fancy yourself as the next Banksy? Or just want to learn how to create a piece of spray can art in a safe, relaxed and fun environment? Then join us for a street art tour and workshop!
One of our expert street artist guides will take you on a street art walking tour of East London where you'll see some of the world's finest street art by Banksy, ROA, Shepherd Fairy, Jimmy C, Invader, Stik and many, many more. Then, after a refreshment break, it's back to the Alternative London workshop to try it for yourself!
All welcome regardless of artistic ability as the Alternative London team will teach you all you need to know to help you to create a masterpiece to take away with you.
The Alternative London Bus, EC2A 3DT
http://alternativeldn.com/
Contact: info@alternativeldn.com
13.30: Lunch at The English Restaurant
This hidden gem offers simple integrity, in never purchasing ready-made, in cooking always and only from fresh ingredients, and in rediscovering the noble and rich traditions of the English kitchen. The English Restaurant is the product of over 10 years' work by couple Kay and Peter Sinden; what was formerly The Market Coffee House has evolved into a high class, quintessentially British restaurant.
52 Brushfield Street, London E1 6AG
www.theenglishrestaurant.com
Contact: info@theenglishrestaurant.com
16.00: Tour the Museum of London Docklands
Discover the 2,000-year history of the docks in East London at the Museum of London Docklands. Themed galleries tell of pirates, sailors and slavery. There's even a life-sized recreation of Wapping High Street as it would have been 200 years ago during the time of Jack the Ripper.
150 London Wall, EC2Y 5HN (Westferry/West India Quay DLR)
www.museumoflondon.org.uk/Docklands
Press contact: 020 7814 5502 / press@museumoflondon.org.uk
19.00: Dinner and drinks at The Dove Freehouse & Kitchen
The Dove Freehouse & Kitchen is a popular gastro pub with dark wooden floors, candles and a dining room. They serve a wide range of continental beers.
24-26 Broadway Market, Dalston, E8 4QJ (London Fields rail station)
http://dovepubs.com/
Contact: 020 7275 7617
Day 2
10.00: Visit the V&A Museum of Childhood
The V&A Museum of Childhood houses the UK's national collection of childhood objects, ranging in date from the 1600s to the present day. As well as toys, dolls and games, the museum has a wealth of objects relating to aspects of childhood including home, childcare, play, learning and clothing.
Rare, hand-crafted objects sit alongside well-loved toys from the 20th century, allowing an insight into how different children might have lived, thought and felt, through the objects they were surrounded by throughout their childhood. In addition, the museum runs temporary exhibitions and displays, activities, events and workshops, outreach projects and an award-winning programme for schools.
Cambridge Heath Road, E2 9PA (Bethnal Green Underground)
www.museumofchildhood.org.uk
Press contact: 020 7942 2502 / press.office@vam.ac.uk
12.00: Visit the Queen Elizabeth Olympic Park
The Queen Elizabeth Olympic Park reopened in 2014 and boasts a range of world-class sports facilities, beautiful parklands and waterways, and spectacular views from the ArcelorMittal Orbit.
Swim in the wake of champions in the two Olympic-sized swimming pools at the London Aquatics Centre, where members of the public can book sessions in both the training and competition pools, or experience the thrill of four different types of cycling at the Lee Valley VeloPark.
Work out in the state-of-the-art gym in the Copper Box Arena, which is also home to London's only professional basketball team, the London Lions. Enjoy a game of tennis or battle it out on Union Jack-inspired hockey pitches at the Lee Valley Hockey and Tennis Centre.
Visitors can also learn about the history of the area and London 2012 by joining a boat tour or guided walking trail. The park is also home to the Tumbling Bay Playground and Timber Lodge café, tree-lined promenades and interactive water fountains.
Those with a head for heights can take a trip up to the top of Britain's tallest sculpture, the ArcelorMittal Orbit by Anish Kapoor, which offers fantastic views across London.
Queen Elizabeth Olympic Park, London E20 2ST (Stratford Underground)
www.queenelizabetholympicpark.co.uk
PR contact: 020 3288 1777 / press@queenelizabetholympicpark.co.uk
14.00: Explore Brick Lane and grab lunch at Beigel Bake
Explore the famous Brick Lane and enjoy a wide range of ethnic food, bustling markets and fabulous shopping.
Brick Lane Beigel Bake is one of Brick Lane's most famous eateries, known for its salt beef, pickled gherkin and mustard beigel. Another well-known product is the smoked salmon and cream cheese version. This cafe's simple interior and low-key exterior make the delicious food even more of a surprise.
Shoreditch, E1 6PU (Aldgate East Underground)
www.visitbricklane.org
15.30: Shopping at BOXPARK
Visit the first pop-up shopping mall in the world. BOXPARK is made up of shipping containers to create unique "box shops". It's known as a pop-up because its basic building blocks can be transported and can literally pop up anywhere in the world. BOXPARK includes a unique mix of international fashion, arts and lifestyle brands, galleries and a café.
Bethnal Green Road (Shoreditch High Street Underground)
www.boxpark.co.uk
Press contact: boxpark@wcommunications.co.uk
19.00: Dinner at Red Dog Saloon
Red Dog Saloon in the trendy area of Hoxton is an authentic American BBQ restaurant serving steak, ribs, burgers and ice cream sundaes.
37 Hoxton Square, N1 6NN
www.reddogsaloon.co.uk
Contact: info@reddogsaloon.co.uk
Day 3
9.30: Visit Forman's Fish Island
A riverside Restaurant and Bar specialising in Forman's world famous smoked salmon and seasonal British foods. The restaurant boasts the "best view" of the Olympic Stadium (The Times) and also a viewing gallery into the smokery.
Stour Road, Fish Island, London, E3 2NT (Hackney Wick London Overground)
www.formansfishisland.com
Contact: info@formansfishisland.com
11.30: Shopping at Westfield Stratford City
With 250 shops plus 70 places to dine, Westfield Stratford City is the largest shopping mall in Europe and the new lifestyle destination for East London.
World-class leisure facilities include Vue Cinema, one of the largest, most innovative all-digital cinemas in Europe boasting 17 all digital screens; All Star Lanes, a luxury bowling experience; and finally, the new 65,000ft Aspers Casino with its two bars and 80 seat restaurant will set a benchmark in the UK, being the first to be granted a large casino license.
Part of one of the largest urban regeneration projects ever undertaken in the UK, Westfield Stratford City also offers spectacular views of the Olympic Park.
Westfield Stratford City, Montfichet Road, Olympic Park, E20 1EJ (Stratford International)
http://uk.westfield.com/stratfordcity
Press contact: GWestfieldUK@hkstrategies.com
15.30: Visit Dennis Severs' House
Wander around the former house of artist Denis Severs, who created the atmosphere left behind by an imaginary 18th-century family. You will sense their presence by the things they've left behind and the smell of food about to be eaten.
18 Folgate Street, Spitalfields, London, E1 6BX (Shoreditch High Street Underground)
www.dennissevershouse.co.uk
Press contact details: 020 7247 4013 / info@dennissevershouse.co.uk
18.30: Cocktails at Barrio East
Barrio East in Shoreditch is a neighbourhood bar serving up cocktails, cantina and a club atmosphere with a global view. Inspired by Latino flavours and cultures, come here for a feel-good party night and prepare to be taken around the world with delicious and fresh cocktails as well as a drinks list that is sourced from every corner of the globe. The music is always cutting edge and the bar is split into two separate areas, one specialising in secluded cocktails and privacy and the other in revelry and fun - the best of both worlds.
140 Shoreditch High Street, Hoxton, E1 6JE (Shoreditch High Street Underground)
http://www.barriobars.com/shoreditch
Contact: shout@barriobars.com
20.00: Dinner at Tramshed
Mark Hix's menu is simple – seasonal sharing starters, followed by chicken or steak. A mezzanine floor offers private dining for up to 36 guests with views of the restaurant and the specially commissioned artwork by Damien Hirst featuring a cow and a cockerel. Mini-Marks bar offers cocktails and bar snacks.
32 Rivington Street, EC2A 3LX
www.chickenandsteak.co.uk
Press contact: jo.harris@hixfoodetc.co.uk
Day 4
10.00: Columbia Road Flower Market (Sundays only)
Spend the morning browsing the flower stalls and soaking up the atmosphere of this quintessential East London flower market. The famous road is lined with independent boutiques whilst outside the street is alive with the cockney banter of the market traders.
Columbia Road, London, E2 7RG (Hoxton Rail London Overground)
www.columbiaroad.info
Press contact details: 020 7613 0876 / info@columbiaroad.info
12.00: Lunch at Eat 17
Based in the heart of Walthamstow Village, Eat 17 is committed to producing honest British food, sourced ethically, skillfully prepared and reasonably priced, in a relaxed and unpretentious setting, since 2007. Bread is made on the premises, in the Eat 17 bakery. All meat is sourced by the East London Sausage Company across the road.
Bacon jam was created here!
28-30 Orford Road, Walthamstow, E17 9NJ (Walthamstow Central)
www.eat17.co.uk
14.30: Make a splash at the Lee Valley White Water Centre
Take advantage of the centre's special offers and go white water rafting from £35 per person. For more details, visit the rafting page on the centre's website and look out for Fast and Furious Fridays and Wet and Wild Weekdays! The centre that played host to the Canoe Slalom events during the London 2012 Games now offers a a variety of white water activities including Hydrospeeding, Hot dog sessions and Go Canoeing.
Station Road, Waltham Cross, Hertfordshire, EN9 1AB
www.visitleevalley.org.uk
Press contact: 01992 210 190 / press@leevalleypark.ork.uk
19.00: Watch a performance at the Barbican
The Barbican in London is Europe's largest arts centre all under one roof. The Barbican is also a base for the London Symphony Orchestra.
The Barbican comprises a concert hall, two theatres, three cinemas, two art galleries, library, two trade exhibition halls, five conference rooms, foyers, shops and conservatory.
Silk Street, London EC2Y 8DS (Barbican Underground)
www.barbican.org.uk
Press contact details: 020 7382 7321 / press@barbican.org.uk