What's New in October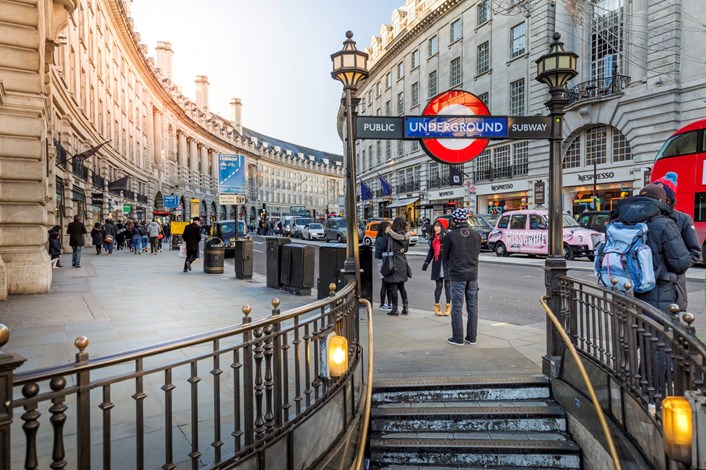 October brings cooler nights and cultural blockbusters to the capital.
Enjoy the autumn foliage in one of London's parks or immerse yourself in one of the many new exhibitions taking place throughout the city this October.
For more information on What's New in London, go to visitlondon.com  
You can also follow the London & Partners communications team on Twitter at @londonpartners 
New Openings
Soho, 24 October 2019
London's newest theatre is located in the heart of Soho in Walker's Court. The Boulevard Theatre will open with the London premiere of Ghost Quartet by the three-time Tony Award-nominated writer Dave Malloy. For more information, contact laura@cornershoppr.com
Events
Regent's Park, 3 – 6 October
Frieze London features more than 160 of the world's leading galleries. View and buy art from over 1,000 of today's leading artists and experience the fair's critically acclaimed curated sections and talks programme. For more information, contact press@frieze.com
New Suns: A Feminist Literary Festival
Barbican Centre, 5 October
New Suns returns to the Barbican for a second year, inviting audiences to explore new and continuing debates in feminist approaches to technology. For more information, contact lorna.gemmell@barbican.org.uk
Wembley Stadium & Tottenham Hotspur Stadium, 6 October – 3 November
Get excited as the NFL returns to London this autumn with four cracking fixtures lined up. The first two games will take place at the new Tottenham Hotspur Stadium, the first purpose-built NFL stadium outside of the United States, while the following two will be returning to Wembley Stadium, a welcoming host to the NFL since 2007. For more information, visit https://www.nfl.com/uk
Royal Hospital Road, 9 – 13 October
For history-buffs and budding-historians, the Chelsea History Festival will launch this October to bring the past to life through a programme of world-class speakers, historians and performers. For more information, contact contact@cadogan.co.uk
Southbank Centre, 17 – 27 October
Bringing new resonance to timeless narratives, Southbank Centre's London Literature Festival returns for its 13th year with an exploration of fairy tales for our times with today's leading writers, thinkers and cultural observers. For more information, contact press@southbankcentre.co.uk
Queen Elizabeth Olympic Park, 22 – 27 October
Invented in London in 1878, Six Day racing is the ultimate in track cycling meets entertainment: a fast-moving evening of endurance and spring racing against the backdrop of music, entertainment and a fantastic atmosphere. Italian Olympic champion Elia Viviana will compete at Phynova Six Day London for the first time this October. For more information, contact media@sixday.com
Exhibitions
Nara: sacred images from early Japan
British Museum, 3 October – 24 November
The British Museum will be bringing 15 major Buddhist and Shinto sacred images from Nara Prefecture to be displayed with related Japanese and Chinese paintings, including 5 Japanese National Treasures. Nara is the eastern terminus of the silk roads that brought trade and continental Asian culture, including Buddhism, to Japan in the period from the AD 500s to the AD 700s, transforming indigenous society. For more information, contact communications@britishmuseum.org
Elizabeth Peyton: Aire and Angels
National Portrait Gallery, 3 October 2019 – 5 January 2020
Created in close collaboration with the artist, Elizabeth Peyton: Aire and Angels explores the development of Elizabeth Peyton's unique art from the 1990s to the present day. Internationally renowned, Peyton's work has been at the forefront of a re-evaluation of figurative art and the tradition of portrait painting since the 1990s. For more information, contact press@npg.org.uk
Mary Sibande: I Came Apart At The Seams
Somerset House, 3 October 2019 – 5 January 2020
In her first solo exhibition in the UK, Mary Sibande presents a series of photographic and sculptural works exploring the power of imagination and constructive anger in shaping identities and personal narratives in a post-colonial world. For more information, contact press@somersethouse.org.uk
The Credit Suisse Exhibition: Gauguin Portraits
The National Gallery, 7 October 2019 – 26 January 2020
The first-ever exhibition devoted to the portraits of Paul Gauguin. Spanning his early years as an artist through to his later years spent in French Polynesia, the exhibition shows how the French artist revolutionised the portrait. For more information, contact press@ng-london.org.uk
Inspired by the East: How the Islamic World Influenced Western Art
British Museum, 10 October 2019 – 26 January 2020
Charting the fascinating history of cultural and artistic interactions between east and west, this exhibition explores the impact the Islamic world has had on western art for centuries. For more information, contact communications@britishmuseum.org
London Transport Museum, 11 October
Hidden London: the Exhibition will take visitors on an immersive journey to some of London's most secret spaces in the oldest subterranean railway in the world. These 'forgotten' parts of the 'tube' networks have incredible stories to tell about Britain's wartime past – such as the Plessey aircraft underground factory which had 2,000 members of staff, mostly women, working in the two 2.5 mile-long tunnels of the Central line during the Second World War. For more information, contact press.office@ltmuseum.co.uk
Tate Modern, 17 October 2019 – 9 February 2020
Pioneering the use of TV and video in art, Nam June Paik has had a profound influence on today's art and culture. This major exhibition will bring together over 200 works from throughout his five-decade career – from robots made from old TV screens, to his innovative video works and all-encompassing room-sized installations such as the dazzling Sistine Chapel 1993. For more information, contact pressoffice@tate.org.uk
Imperial War Museum, 19 – 20 October
Stories of real-life animal heroes will be brought to life at Imperial War Museums this October. Visitors to IWM London and IWM North will see some of these incredible animal stories jump off the page, allowing families to discover the powerful feats of animal bravery throughout history. For more information, contact nosbourne@iwm.org.uk
Wellcome Collection, 24 October 2019 – 8 March 2020
Why do we play? How important is it for all of us, young or old? What does it mean to play well? Play Well will explore how play transforms both childhood and society. Using toys, games, artworks and design, this exhibition will investigate how we played as children and how we play now we're grown up: developing social bonds, emotional resilience and physical wellbeing. For more information, contact j.sanchez@wellcome.ac.uk
Lucian Freud: The Self-portraits
Royal Academy of Arts, 27 October 2019 – 26 January 2020
Spanning nearly seven decades, Lucian Freud's self-portraits give a fascinating insight into both his psyche and his development as a painter – from his earliest portrait, painted in 1939, to his final one executed 64 years later. When seen together, his portraits represent an engrossing study into the process of ageing. For more information, contact press.office@royalacademy.org.uk
Entertainment & Theatre
Royal Albert Hall, 3 October
Inspired by Shaun Usher's international best-selling Letters of Note series and Simon Garfield's To the Letter, Letters Live has since December 2013 been a live celebration of the enduring power of literary correspondence. Coming to the Royal Albert Hall for the first time ever this October, the show will feature a completely different array of great performers, reading remarkable letters from all around the world and through the ages. For more information, contact paulb@royalalberthall.com
Various, 3 October – 18 November
K-Music is London's festival of Korean music. Now in its sixth year, it offers performances from Korean musicians across the capital, from traditional music and the beautiful art form of pansori to avant-garde, improvised contemporary music, jazz, rock and much more. For more information, contact beth.sinden@serious.org.uk
Various, 8 – 27 October
Dance Umbrella is London's international dance festival, celebrating 21st century choreography across the capital. For more information, contact laura@thecornershoppr.com
Barbican Centre, 10 – 13 October; Sadler Wells, 22 – 26 November
Darbar Festival was established in the memory of inspirational table player Gurmit Singh Ji Virdee. The 8-day festival will feature music at the Barbican Centre in October and dance curated by Akram Khan at Sadler's Wells in November. Darbar Festival 2019 will host long-standing legends, maestros and the best up-and-coming artists of Indian classical music and dance. For more information, contact sabine.kindel@barbican.org.uk
Sadler's Wells Theatre, 22 – 26 October
After performances in New York and Lyon, Natalia Osipova's Pure Dance returns. The Royal Ballet principal will dance a handpicked programme of classical and contemporary works, including Antony Tudor's The Leaves are Fading and Roy Assaf's newly extended Six Years Later. For more information, contact charlotte.constable@sadlerswells.com
Some Like It Hip Hop – ZooNation: The Kate Prince Company
The Peacock Theatre, 23 October – 9 November
ZooNation and Kate Prince's smash-hit sensation Some Like It Hip Hop returns to Sadler's Well's The Peacock, following a UK tour. With a nod to Billy Wilder's Some Like It Hot and Shakespeare's Twelfth Night, Some Like It Hip Hop thrilled audiences and critics when it opened in 2011. For more information, contact caroline.ansdell@sadlerswells.com
Boulevard Theatre, 24 October 2019 – 4 January 2020
An intoxicating musical of love, loss and spirits – of both the spectral and alcoholic kind, Ghost Quartet draws inspiration from a rich tapestry of work from Arabian Nights and Edgar Allen Poe to Grimms' fairy tales and Stephen Sondheim, woven together by gospel, honky-tonk, folk ballads, electro-pop and jazz. For more information, contact laura@cornershoppr.com
Noёl Coward Theatre, 29 October 2019 – 4 April 2020
A letter that was never meant to be seen, a lie that was never meant to be told, a life he never dreamed he could have. Evan Hansen is about to get the one thing he's always wanted: a chance to finally fit in. Both deeply personal and profoundly contemporary, Dear Evan Hansen is a new musical about life and the way we see it. For more information, contact Janine.Shalom@premiercomms.com
Food & Drink
Various, 1 – 31 October
Celebrate London's eclectic food scene with the London Restaurant Festival. This month-long festival is a city-wide homage to great food in London, and the perfect excuse to try out some of the capital's world-class restaurants. Discover cuisines from around the world, go restaurant hopping, and attend special themed nights pairing food and film. For more information, contact info@londonrestaurantfestival.com
Various, 4 – 13 October
London Cocktail Week is an enormous celebration of London's fantastic cocktail scene and the biggest events of its' kind in the world. With 300 bars in London participating and a Cocktail Village complete with over 30 pop-up bars, street food and DJs, this year's festival will expand to ten days in a celebration of its tenth anniversary. For more information, contact press@drinkup.london
Soho, October: Date TBA
New Sri Lankan restaurant Paradise will merge British and Sri Lankan ingredients in its menu. With cuisine inspired by the owner's childhood trips to Sri Lanka, Paradise is slated to open in Soho this autumn. For more information, visit https://www.instagram.com/paradisesoho/
Lina Stores – King's Cross Restaurant and Deli
King's Cross, October/November: Date TBA
Established in 1944, Lina Stores has been trading out of Soho for over 75 years. Selling authentic Italian produce, fresh pasta and sandwiches every day, this expansion will be the group's first venture outside the West End. For more information, visit https://www.linastores.co.uk/
Westfield White City, October: Date TBA
Restauranteurs Gabriel and Jose-Luis Gonzalez are bringing a new casual dining concept from their home country, Venezuela, to the UK. The menu will focus on fresh, seasonal ingredients showcasing the best of Venezuelan cuisine. For more information, contact caracas@saucecommunications.com
Hotels
Shoreditch, October 2019: date TBC
With locations already in Berlin, Milan and Marseille, the UK's first nhow hotel will play with London's oldest traditions and technological future, right in the centre of the city's most creative and happening district. The eight-floor hotel will house 190 vibrant rooms, a restaurant conceptualised as a reinvention of the British pub, a bar, gym and three meeting rooms. For more information, contact teresa@gribbonberry.com
About London & Partners:
London & Partners is the Mayor of London's official promotional agency. Its purpose is to support the Mayor's priorities by promoting London internationally, as the best city in the world in which to invest, work, study and visit. We do this by devising creative ways to promote London and to amplify the Mayor's messages, priorities and campaigns to international audiences. Its mission is to tell London's story brilliantly to an international audience.
London & Partners is a not-for-profit public private partnership, funded by the Mayor of London and our network of commercial partners. For more information, visit londonandpartners.com

About visitlondon.com:
visitlondon.com is the most influential source of information for overseas visitors to London and features thousands of attractions both large and small across the entire city. Every year the site attracts 28 million unique users.
For high res, rights-free images of London, please register at https://photos.london/press/
Media Enquiries:
London & Partners Media & PR Team
Tel: +44 (0)20 7234 5710
Switch: +44 (0)20 7234 5800
Email: press@londonandpartners.com