What's New in January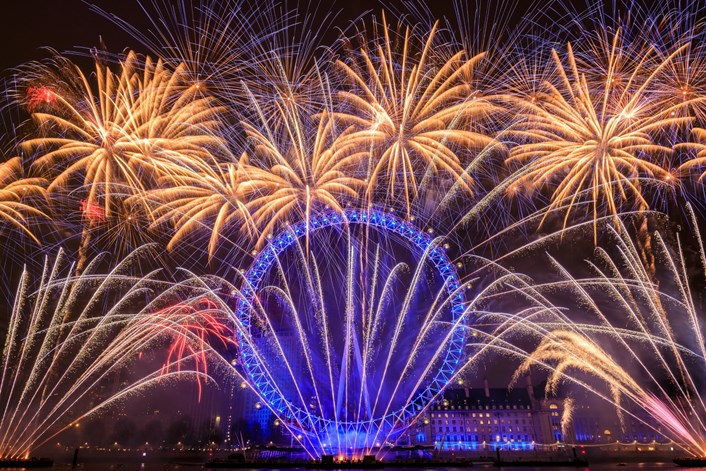 With the New Year comes a whole calendar of exciting things to do in the capital. Test your New Year's resolutions with a vegan food festival, a 3k fun run and enjoy all the cultural experiences London has on offer with a music or film festival.
For more information on What's New in London, go to visitlondon.com
You can also follow the London & Partners communications team on Twitter at @londonpartners
Events
Central London, 1 January 2020
For the past 33 years, London's New Year's Day Parade has marched through some of Central London's most iconic sites. Running alongside the parade is the London's New Year's Day Parade concert series and the Grand Finale of the London International Choral Festival performed in internationally acclaimed music venues across the nation's capital. For more information, contact dan@dkpr.co.uk
Start Serpentine New Year's Day 10k race and 3k Fun Run
Hyde Park and Kensington Park, 1 January 2020
Start the New Year on the right foot with the Start Serpentine New Year's day 10k race or the 3k Fun Run. The 10k race will be taking place at Hyde Park while the 3k race will be at Kensington Park. For more information, contact communications@serpentine.org.uk
London International Mime Festival
Various locations, 8 January – 2 February 2020
Taking place each January, the London International Mime Festival (LIMF) programme spans the spectrum of contemporary visual performance including live art, physical and circus theatre, mask, puppetry, movement and object theatre. For more information, contact anna@annaarthurpr.com
Various cinemas, 10 – 19 January 2020
Broaching its seventeenth year, London Short Film Festival has been recognised as the premier UK showcase for cutting edge homegrown and international short film. Renowned for cross-arts programming, the festival strives to platform emerging talent alongside the established. For more information, see https://shortfilms.org.uk/
Canary Wharf, 16 – 25 January 2020
The award-winning Winter Lights returns to Canary Wharf in January for a sixth year! Canary Wharf will be transformed by over 25 spectacular installations, leaving the dark winter evenings aglow. The spectacle will showcase light art and interactive installations by some of the most innovative artists across the globe working in light art today. For more information, contact pressoffice@canarywharf.com
Olympia London, 18 – 19 January 2020
RuPaul's DragCon is sashaying over from across the pond for the ultimate weekend of art, drag and pop culture. Visitors can meet the famous cast of RuPaul's Drag Race UK as well as their favourite US Queens. Enjoy entertaining and information panels on topics ranging from drag tips to art, culture, and politics. For more information, contact wow@metropublicrelations.com
Business Design Centre, 22 – 26 January 2020
London Art Fair provides a space to showcase the most exceptional modern and contemporary art of our time, to discover and buy. The Fair is an established destination for both museum quality modern and contemporary work, nurturing collection at all levels, from prints to editions, to major works by international renowned artists. For more information, contact Katherine.jones@upperstreetevents.co.uk
Chinese New Year 2020 in London
Various locations, 26 January 2020
Celebrate the Year of the Rat in London, with the biggest Chinese New Year celebrations outside Asia. The central London festivities take place across the West End, from Shaftesbury Avenue in the north down to Trafalgar Square. There are lively activities and foodie treats in Chinatown; Leicester Square offers family-friendly entertainment; and while Trafalgar Square hosts the main stage performances, more stages can be found on Shaftesbury Avenue and Charing Cross Road. For more information, contact media@lccauk.com
Exhibitions
Royal Academy of Arts, 25 January – 13 April 2020
Pablo Picasso rewrote the rules of painting, but he also tore up the rulebook for paper. Bringing together 300 of the artist's works, both on and with paper, this exhibition spans his entire prolific career and represents a significant chapter in modern art. For more information, contact press.office@royalacademy.org.uk
Filthy Lucre: Whistler's Peacock Room Reimagined
V&A, opening 25 January 2020
This immersive installation by contemporary artist Darren Waterston presents a detailed and decadent interpretation of James Abbott McNeill Whistler's famed Peacock Room, a sumptuous 19th-century interior. For more information, contact press.office@vam.ac.uk
Mushrooms: The Art, Design and Future of Fungi
Somerset House, 31 January – 26 April 2020
This exhibition invites visitors to explore the fascinating world of mushrooms through the work of over 40 artists, designers and musicians, celebrating the rich legacy of mushrooms and their relationship with society and the planet. An extensive events programme accompanies the exhibitions, including a mushroom-inspired pop-up dining experience. For more information, contact press@somersethouse.org.uk
Entertainment & Theatre
Trafalgar Studios 2, 8 January – 1 February 2020
Following its acclaimed 35th anniversary production last year, Kevin Elyot's Coming Clean is set to break hearts as it returns to the West End. Set in a North London flat in Kentish town, Coming Clean looks at the gradual breakdown of a gay couple's relationship, exploring the often self-contradictory themes of fidelity and love. For more information, contact info@amandamalpass.com
Roundhouse, 3 – 18 January 2020
Following sell out performances across Europe and the UK, NoFit State Circus' LEXICON comes to London for a strictly limited run promising audiences a spirited and mischievous start to the New Year. LEXICON is a world of magic, light and laughter inhabited by quiet misfits and furious poetry. Thirty years since its humble beginnings, NoFit State is the UK's leading large-scale contemporary circus company. For more information, contact anna@nofitstate.org
Park Theatre, 9 January – 8 February 2020
RAGS The Musical tells the heart-warming and powerful tale of a group of Jewish immigrants as they arrive to start a new life in America. Fresh from Ellis Island, a young mother and her son search for a new life and a sense of home as the 20th century beckons. For more information, contact ginny@amandamalpass.com
The Royal Albert Hall, 12 January – 1 March 2020
Cirque du Soleil returns to London's Royal Albert Hall in 2020, bringing their dazzling luminous spectacle Luzia to Europe for the first time Luzia takes you to an imaginary Mexico, like in a waking dream, where light ("luz" in Spanish) quenches the spirit and rain ("lluvia") soothes the soul. For more information, contact rickb@royalalberthall.com
Boulevard Theatre, 16 January – 14 March 2020
Two men meet on a subway platform; the chance encounter instantly changing the trajectory of both their lives. Multi award-winning writer Cormac McCarthy's gripping play explores redemption, faith and free will – can you be your brother's keeper if he doesn't want to be kept? For more information, contact hello@boulevardtheatrea.co.uk
Waterloo, 28 January – 22 March 2020
Vault Festival was created by the Heritage Arts Company in 2012 as a one-off project. A fascinating, underground labyrinth of tunnels owned by Network Rail (now The Vaults, a diverse year-round venue programmed and managed by its own team) wasn't in use, leading Heritage Arts to populate it over three long weekends with a handful of cutting-edge productions and a pop-up cinema. Since then, it has grown to feature 428 productions across eight weeks. For more information, contact chloeabley@chloenelkinconsulting.com
English National Opera, 29 January – 27 February 2020
Carmen is a searing depiction of a woman who craves love, but creates obsession and jealousy based on the infamous novella by Prosper Mérimée. One of the most popular operas ever written, Georges Bizet's score is bursting with passionate melodies and includes famous arias such as the 'Habanera', Toreador's Song' and 'Flower Song'. For more information, contact mediaenquiries@eno.org
Shoreditch, 31 January – 1 February 2020
London Remixed Festival is a celebration of the best emerging musical talent and genres, offering creativity, fun and madness. Featuring indoor camping areas and a silent disco café, the festival will consist of over 25 cutting edge bands and DJs across four stages over the two days. Stay tuned for the full line-up. For more information, contact music@continentaldrifts.co.uk
Food & Drink
Brick Lane, 30 January 2020
Stretching across the Truman Brewery, Vegan Nights launched in 2017 as a one-off night market and plant-based party. Now boasting a huge outdoor food court and a nightclub, Vegan Nights is the event for lifelong vegans to socialise alongside punters merely curious to see the latest gluten-free creation. For more information, contact social@vegannights.uk
Grims Dyke Hotel, 10 – 11 January 2020
The fifth annual Harrow Whisky Festival will see the return of many favourites and new exhibitors, with products coming from more than 30 distilleries. For more information, contact whiskyprof@scotchwhisky.com
Broadgate, Date TBA January 2020
London's Portuguese wine bar is opening a second location in 2020. Created as a way to bring authentic Portuguese food to London, the new dining space offers an intimate window to the best Portuguese culinary heritage. For more information, contact info@bardouro.co.uk
Hotels
East London, 2 January 2020
The UK's first nhow hotel plays with London's oldest traditions and technological future in an unexpected way, right in the centre of the city's most creative and happening districts. The nhow will be the place to eat, meet, work and play with a large open-plan lobby, cosy fireplace, modern bar, stylish restaurant, inspiring meeting laboratories, technological gym and 190 vibrant bedrooms. For more information, contact y.wissart@nhow-hotels.com
IBIS STYLES London Heathrow East
Heathrow Airport, Date TBA January 2020
A short drive from Heathrow Airport, the new IBIS STYLES London Heathrow Airport East promises to be the perfect base for business or leisure. With Kew Gardens, Legoland and Thorpe Park nearby, the new location also offers 125 rooms, a meeting room for up to 25 people, parking on-site and a restaurant serving an array of food and drink. For more information, contact hb2s3@accor.com
About London & Partners:
London & Partners is the Mayor of London's official promotional agency. Its purpose is to support the Mayor's priorities by promoting London internationally, as the best city in the world in which to invest, work, study and visit. We do this by devising creative ways to promote London and to amplify the Mayor's messages, priorities and campaigns to international audiences. Its mission is to tell London's story brilliantly to an international audience.
London & Partners is a not-for-profit public private partnership, funded by the Mayor of London and our network of commercial partners. For more information, visit londonandpartners.com


About visitlondon.com:
visitlondon.com is the most influential source of information for overseas visitors to London and features thousands of attractions both large and small across the entire city. Every year the site attracts 28 million unique users.
For high res, rights-free images of London, please register at https://photos.london/press/
Media Enquiries:
London & Partners Communications Team
Tel: +44 (0)20 7234 5710
Switch: +44 (0)20 7234 5800
Email: press@londonandpartners.com