What's New in August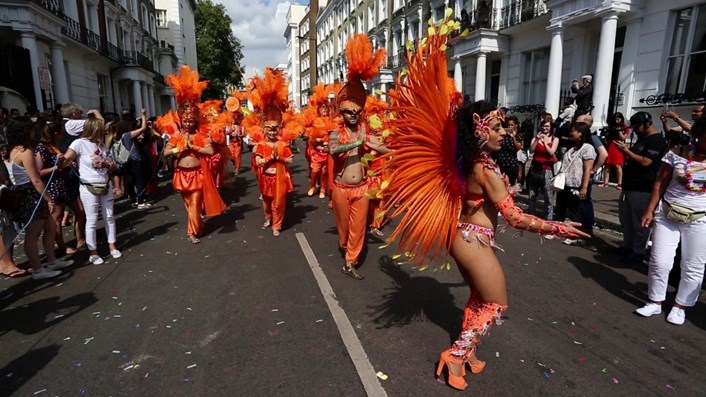 August marks the last few weeks of summer and there is no better way to enjoy the end of the season than with one of the many events taking place in London. Cheer, dance and eat your way through the month with sporting events, music festival, foodie events and much more.
For more information on What's New in London, go to visitlondon.com
You can also follow the London & Partners communications team on Twitter at @londonpartners
Entertainment & Theatre
Southbank Centre, 3 – 11 August 2019
Producer, musician and sonic trendsetter Nile Rodgers curates the 26th Meltdown – packed full of exclusive collaborations, world-wide one-offs and unmissable nights. At Rodgers' Meltdown festival, submit to the surreal genius of bassist and singer Thundercat, rock out to the legendary guitarist and singer-songwriter Johnny Marr, hear blistering rock from Mali's Songhoy Blues, or bathe in the lazing rhythms of neo-soul collective Jungle. For more information, contact press@southbankcentre.co.uk
Trent Park, 3 August 2019
51st State Festival will once again celebrate the roots of House music, pulling together the threads of this hugely influential sound, exploring classic house, tech house, afro house, garage, disco, soul, dub, dancehall and more. Your favourite pioneers from Chicago, New York, Detroit, London and beyond will be joined by the trailblazers of today. For more information, contact info@51ststatefestival.com
Somerset House, 8 – 21 August 2019
Experience the ultimate cinematic experience under the starry sky when the iconic Somerset House transforms into a beautiful open-air cinema. One of the very first outdoor cinemas in the UK, Film4 Summer Screen celebrates its 200th screening in 2019 with top films including The Princess Bride, The Matrix and Black Panther. For more information, contact press@somersethouse.org.uk
Leicester Square Summer Screenings
Leicester Square Gardens, 8 - 11 August 2019
Opening its gates from Thursday 9th August to Sunday 11th August, Leicester Square Gardens will be screening something for everyone. Tim Burton's live action re-imagining of Dumbo will bring the perfect finale to the opening day as an ideal family fun night out. The schedule will also include the 1985 classic Back to The Future and the worldwide musical sensation The Greatest Showman. For more information, contact Annie.McMonagle-wilmot@premiercomms.com
Wyndham's Theatre, 20 August – 14 September 2019
Following a sold-out run in New York, Fleabag, Phoebe Waller-Bridge's award-winning comedic play, directed by Vicky Jones, comes home to London for 30 performances only from 20 August. The play that inspired the hit television series, Fleabag is a rip-roaring look at some sort of woman living her 'sort of' life. For more information, visit https://sohotheatre.com/shows/fleabag-wyndhams-theatre/
The O2, 29 August 2019 – 16 February 2020
Be transported to a Greek island paradise for a night of Abba-themed fun with Mamma Mia! The Party at The O2. Take a seat in Niko's taverna and watch the feel-good story of Mamma Mia! unfold during an evening of iconic Abba songs, delicious Mediterranean food and plenty of dancing, as part of this interactive London show. Produced by Abba member Björn Ulvaeus, the ultimate Abba-inspired party experience comes to London following three years of sold-out shows in Stockholm. For more information, contact info@amandamalpass.com
Exhibitions
Who Are Ya? Exploring Art, Identity and Football
Tate Modern, 6 – 11 August 2019
Shooting straight out of the FIFA Women's World Cup in France and heading into the next season, Tate Exchange and collaborating artists and groups are tackling preconceptions about art and football. Explore the beautiful game through the lens of artists, creators and community leaders as Tate Exchange transforms into a Sunday league pitch, bringing the cultural worlds of art and football together for a tense match deserving of a place at Wembley. For more information, contact pressoffice@tate.org.uk
Events
Longines Global Champions Tour
Royal Hospital Chelsea, 2 – 4 August 2019
Royal Hospital Chelsea will once again be the unique and prestigious venue for the London leg of the Longines Global Champions Tour. The high calibre show jumping event features the sport's Olympic and World Champions including three-time LGCT London winner Scott Brash and Olympic teammate and 2018 LGCT Champion Ben Maher. For more information, contact press@globalchampionstour.com
Various locations in London and Surrey, 1 – 4 August 2019
Prudential RideLondon, the world's greatest weekend festival of cycling, will be taking place this year from 1 to 4 August 2019. Before the weekend of riding and racing events starts, visit the Prudential RideLondon Cycling Show at ExCeL London to soak up the atmosphere, see world stars and stock up on the latest gear. Watch the world's best females compete in the Classique on a central route and on Sunday, support the riders in RideLondon-Surrey 100 and RideLondon-Surrey 19. For more information, contact media@ridelondon.co.uk
Wembley Stadium, 24 August 2019
See the pinnacle of the Rugby League season as the country's best two sides battle it out for the trophy in the Coral Challenge Cup Final at Wembley Stadium. This historic knockout tournament is the only one of its kind to feature clubs from all levels of the sport, from small grass-roots clubs to the country's best professional teams – but only two teams can make it to the final. For more information, visit www.rugby-league.com/challengecup
Notting Hill, 24 – 26 August 2019
Each year, close to one million people attend this celebration of Caribbean heritage on the streets of Notting Hill. Celebrations include dancing to traditional reggae, meringue, calypso, rumba, and zouk music, and street vendors selling foods like seasoned jerk chicken, callaloo, and traditional goat stew. For more information, visit www.thelondonnottinghillcarnival.com/
Southall Park, 31 August – 1 September 2019
Taking place in the south-west London neighbourhood of Southall, home to London's largest south Asian community, this varied festival celebrates multiculturalism in the capital. Watch British, Asian and international artists performing urban, classical and Bollywood music styles, as well as dance, cabaret, circus and street theatre. Try out new dishes and flavours at the Taste of Asia food market or find fun activities at the Magic Mela family area. For more information, visit /www.londonmela.org/
Food & Drink
Olympia London, 6 – 10 August 2019
The Great British Beer Festival is one of the biggest, most exciting and well-known events in the beer and cider world. Organised by the Campaign for Real Ale (CAMRA) it brings hundreds of real ales, international beers and real ciders and perries under the iconic Olympia roof. For more information, contact events@camra.org.uk
Tobacco Dock, 9 – 11 August 2019
The London Craft Beer Festival is a celebration of great beers, passionate brewers, and the people who make London a great beer city. Featuring a long list of brewers, food vendors and live music, the London Craft Beer Festival will be taking place at Tobacco Dock for its sixth year. For more information, contact info@londoncraftbeerfestival.co.uk
The Old Truman Brewery, 17 – 18 August 2019
Journey through this incredible celebration of the country's finest and most fanciful creations. Described as the capital's first experiential festival celebrating sensory indulgence through desserts, the London Dessert Festival will be full of exciting, experiential ways to enjoy the best desserts from across the UK. For more information, contact thescoop@londondessertfestival.com
Covent Garden Piazza, 22 - 26 August
Covent Garden will be celebrating the last Summer Bank Holiday with a family friendly festival celebrating all things frozen from 22 until 26 August in the Covent Garden Piazza. Expect an incredible array of sweet treats on offer, including over 50 flavours of ice cream from avocado soft serves, granitas, teppanyaki-style ice cream to many more summertime favourites and frozen cocktails. For more information, contact catherine@capitalandcounties.com
Hampton Court Palace Food Festival
Hampton Court Palace, 24 – 26 August 2019
Enjoy and discover a great selection of delicious artisan producers, the tastiest street food, a stellar line-up of cooks and chefs, fabulous entertainment, family fun and great, live music. All set within the backdrop of the historic Hampton Court Palace. For more information, visit www.hrpfoodfestivals.com/
Tobacco Dock, 30 August – 1 September 2019
Now in its seventh year, Meatopia UK boasts a fully curated menu of exquisite, one-off dishes, all cooked over fire by some of the world's most sought-after and critically acclaimed chefs. Meatopia 2019 will bring brand-new dining experiences and dedicated areas devoted to the importance of the high quality, ethically sourced ingredients. For more information, contact info@tobaccodocklondon.com
The Old Truman Brewery, 31 August – 1 September 2019
London Brunch Fest is back for a second year. There will be coffee, there will be booze, also workshops, talks, music and most importantly…more awesome brunch food than you can shake a sausage at. For more information, contact fran@lunacomms.co.uk
Hotels
Shoreditch, August 2019
The NH Hotel Group will open UK's first nhow hotel in east London this summer – the group's design and lifestyle brand currently has hotels in Berlin, Rotterdam, Milan and Marseille. The interior design will feature a 'London reloaded' theme, incorporating bold designs inspired from traditional icons such as the Royal Family, London landmarks and the underground. For more information, contact teresa@gribbonberry.com
About London & Partners:
London & Partners is the Mayor of London's official promotional agency. Its purpose is to support the Mayor's priorities by promoting London internationally, as the best city in the world in which to invest, work, study and visit. We do this by devising creative ways to promote London and to amplify the Mayor's messages, priorities and campaigns to international audiences. Its mission is to tell London's story brilliantly to an international audience.
London & Partners is a not-for-profit public private partnership, funded by the Mayor of London and our network of commercial partners. For more information, visit londonandpartners.com


About visitlondon.com:
visitlondon.com is the most influential source of information for overseas visitors to London and features thousands of attractions both large and small across the entire city. Every year the site attracts 28 million unique users.
For high res, rights-free images of London, please register at https://photos.london/press/
Media Enquiries:
London & Partners Media & PR Team
Tel: +44 (0)20 7234 5710
Switch: +44 (0)20 7234 5800
Email: press@londonandpartners.com